Moulding and Casting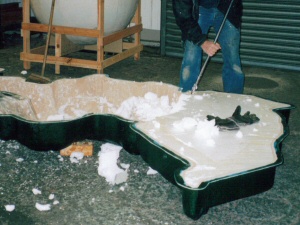 Models like Cupide which are used for road features such as Decodance are nearly always repeated a number of times along a section of the Illuminations. To create multiple copies a mould is made of the model. From this, as many fibreglass casts can be taken as required.
To achieve this, the polystyrene model is coated with plaster and then sanded down again to create a smooth finish. This is done so that the resin used in making the mould doesn't eat into the polystyrene.
To create the mould, fibreglass is laid over the plaster and coated with resin. Once this is complete, the original polystyrene model and plaster are destroyed. They are dug out of the mould to leave an empty shell - a fibreglass mould that can be used to create many casts.
To create a cast, the mould is first lined with several layers of wax and a mould release agent. It is then lined with fibreglass which is coated with resin. This is what will become the actual fibreglass cast. The wax and release agent ensure that the fibreglass cast does not stick to the mould and can be more easily removed. After casting, the blue mould release agent is easily washed off with a hose.
The finished cast is smooth to touch, with a plastic-like finish to it to which paint doesn't stick. Before painting can begin therefore, it is sanded to provide a rougher surface for the paint to adhere to.
Photo Gallery

Sarah Myerscough (me) plastering the model of Cupide - Moulding and Casting - Making of a Blackpool Illumination - © Sarah Myerscough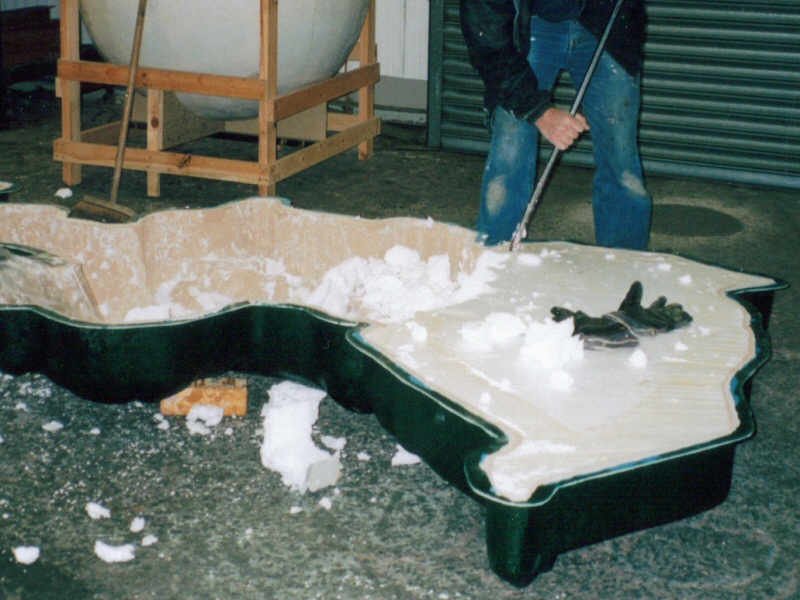 One of the Illuminations staff digging out the polystyrene and plaster - Moulding and Casting - Making of a Blackpool Illumination - © Sarah Myerscough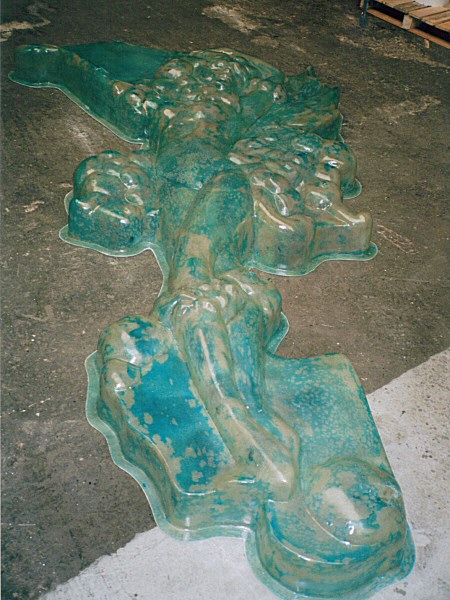 A fresh fibreglass cast of Cupide with blue mould release agent still on it - Moulding and Casting - Making of a Blackpool Illumination - © Sarah Myerscough
What are Blackpool Illuminations?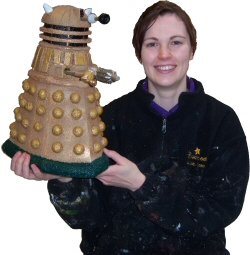 If you have landed on this page from Google or another search engine or from a link on a website, you might just be wondering what you are looking at.
Blackpool Illuminations is the greatest free light show on earth, where Sarah Myerscough (me) works as an artist. The Illuminations are an annual event that takes place from late August / early September to November, along six miles of the promenade in Blackpool, a seaside resort in the North West of England.
Blackpool itself is the most visited seaside resort in Europe and provides family entertainment throughout the year. It has three piers, the 518ft Blackpool Tower featuring an excellent circus, miles of golden sands, a huge amusement park (Blackpool Pleasure Beach), a waxworks (Madame Tussaud's), a Sea Life Centre, a Ripley's Believe It Or Not, a zoo (Blackpool Zoo), two major theatres (Grand Theatre and The Opera House), dozens of amusement arcades (including Coral Island), a water park (Blackpool Sandcastle) and much, much more...
Where should you go next?
If you have landed on this page by chance and are wondering where to go next: