Electrics and Framework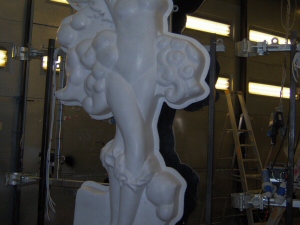 For most road features like Cupide back to back models are made which are either mirror images or the reverse view of each other. This is so that they appear on both sides of a lamp-post and it doesn't matter whether you are travelling north or south along Blackpool's promenade to see the illuminations.
These finished casts are mounted onto backboards to which the electrics are fitted. These in turn are bolted to a steel framework with clamps that allow the features to be hung from lamp-posts on the promenade.
The Illumination's skilled fitters and electricians have a challenge on their hands to ensure that the features will be able to withstand whatever weather the Blackpool winter season throws at them. This includes being battered by strong winds, attacks from salt thrown up by sea-spray and the risk of water ingress from driving rain.
And its not just for the nine weeks that the Illuminations are running. With six miles of displays it takes over six months to erect and dismantle them every year. Indeed, sometimes features are left up all year round.
As I said earlier I'm an artist, not a qualified joiner, electrician or fitter and so sadly I only have one photograph of this part of the process in progress. I will endeavour to get hold of some more and update this page at a later date. Watch this space!
Photo Gallery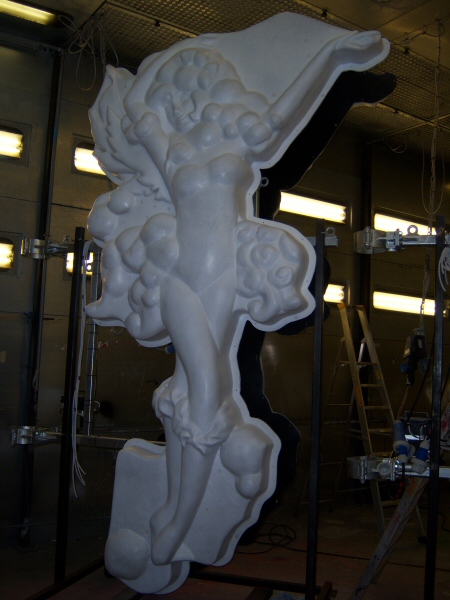 Cupide road feature with steel framework and clamps fitted and electrics started - Electrics and Framework - Making of a Blackpool Illumination - © Sarah Myerscough
What are Blackpool Illuminations?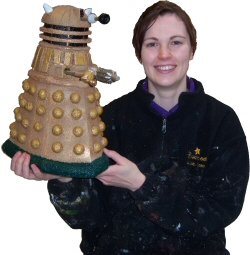 If you have landed on this page from Google or another search engine or from a link on a website, you might just be wondering what you are looking at.
Blackpool Illuminations is the greatest free light show on earth, where Sarah Myerscough (me) works as an artist. The Illuminations are an annual event that takes place from late August / early September to November, along six miles of the promenade in Blackpool, a seaside resort in the North West of England.
Blackpool itself is the most visited seaside resort in Europe and provides family entertainment throughout the year. It has three piers, the 518ft Blackpool Tower featuring an excellent circus, miles of golden sands, a huge amusement park (Blackpool Pleasure Beach), a waxworks (Madame Tussaud's), a Sea Life Centre, a Ripley's Believe It Or Not, a zoo (Blackpool Zoo), two major theatres (Grand Theatre and The Opera House), dozens of amusement arcades (including Coral Island), a water park (Blackpool Sandcastle) and much, much more...
Where should you go next?
If you have landed on this page by chance and are wondering where to go next: